Vans x Chaz Bojorquez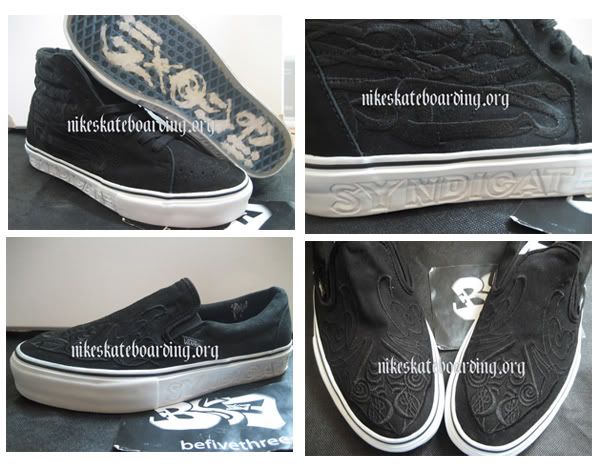 Oggi non mi va di tradurre quindi ecco le info in inglese.

The bolshy carved midsole of these Sk8 His and Slip-Ons might be is at odds with some subdued previous Syndicate releases, but there's a reason for it. Before the Dogtown crew appropriated his inner-city gothic style and Mr Cartoon (no stranger himself to limited edition Vans) took his work as a key influence, the doyen of cholo-style graffiti, Charles "Chaz" Bojorquez was innovating, with early river bed painting and tagging that gave the Left Coast a genuine artistic identity, evolving his work to a point where he could justifiably say he was communicating the human condition and spirit through writing. In the hands of lesser mortals, that might sound like pretentious drivel, but Chaz's time spent adding to Mexican Indian art tradition influences with a formal education at Chouinard Art Institute, the study of Asian calligraphy, and 3 years spent travelling the globe, stopping at 35 cities to study writing types from culture to culture means Bojorquez earnt his spot at the Smithsonian Institute.